Directions and Hours
Address
100 Montreal St
Kingston Ontario
K7K 3E8
Hours
September thru May
Tuesday and Thursdays – 1900 hrs (7.00 pm) to 2200 hrs (10.00 pm)
May 24 thru Sept 2 – 10.00 am – 4.00 pm Mon thru Fri
(Closed Holidays)
Other times by request (please contact the Curator)
Group Tours available by arrangement
Admission is free
Donations accepted
Directions
Approaching Kingston from East or West via Hwy 401, take the Montreal St exit and proceed South to the Armouries at 100 Montreal St, immediately past the traffic light at Ordnance St. on your right.
Approaching Kingston from the East via Hwy 2, after crossing the Cataraqui River, turn right on Queen St, (3rd street) then turn right on Montreal St. (4th street), the Armouries is on your left.
Approaching Kingston from West via Hwy 2, continue along Princess St and turn left on Montreal St, (first street past Sydenham St) and the Armouries will be on your left immediately past Queen St (1 block)
Directions via Google Maps
On entering the Armouries, the museum is on your left. Please be respectful of soldiers on the parade square.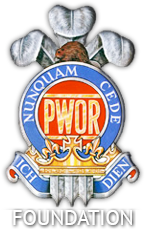 NOW RECRUITING!
Join The Princess of Wales' Own Regiment!
Do you have what it takes to push yourself to the limit, and then go even farther? Contact our recruiter today and learn about an exciting career with the Canadian Army Reserve, or swing by the Armouries to take a tour of the unit!!
Telephone: (613) 541-5010 ext. 2882
Email: [email protected]