CONDOLENCES
The members of the Regimental Family offer their sincere condolences to the family and friends of former members and "Friends" of the Regimental Family who have passed away:
6 September 2019. The Reverend Canon Alex Wakeling, December 24, 1932 to September 6, 2019. He lived an incredible life both serving 27 years in the military as a chaplain, here and abroad, and as a priest in the diocese of Calgary and Kingston as Vicar at St. Georges until his retirement. The family will gather for a funeral liturgy to be held at St. George's Cathedral, 270 King Street East (at Johnson Street) on Friday, September the 13th at 1 p.m. A time of fellowship will follow until 3 p.m. In lieu of flowers, memorial donations, for those wishing may be made to St. George's Cathedral or the Primate World Relief and Development Fund.
12 August 2019. Neil Allison Blizzard. Neil was RSS staff at the PWOR during the 80s+ 90s. A Celebration of Life will be held for friends and family on Sunday, September 8, 2019 between 2:00 – 5:00 pm at the Napanee Legion Upstairs. In lieu of flowers, donations can be made by cheque to the Napanee District High School Music Department or The Red Cross. On-line condolences at www.wartmanfuneralhomes.com.
7 July 2019. CWO (Ref'd) George Wilson Elliott. Enrolled in the Canadian Provost Corps in 1952, and retiring in 1989 from the Canadian Forces Military Police after 37 years of dedicated and distinguished service. Served as RSM of the Regiment 1990-1991.
6 July 2019. Denis Griffiths, age 95. Denis passed away peacefully with his family by his side at Providence Continuing Care. He is survived by his loving wife of 76 years, Leah Griffiths. Denis was a member of the PWOR during WWII when the unit was tasked with domestic duties, which involved securing German POWs at Fort Henry.
9 April 2019: Thomas Bernard (Bernie) Gorman, at the age of 75. He retired from the Princess of Wales Own Regiment in Kingston, as a reservist, after 32 years of service to his country. One of his most memorable moments was meeting HRH Diana, Princess of Wales. Service to be held at Holy Family Catholic Church, 35 Lundy's Lane, CFB Kingston on Saturday, April 13th at 2PM
29 December 2018: Chuck Beavis, at the age of 79. Chuck served the Regiment from 12 May 1958 until he transferred to the Royal Canadian Artillery in February 1961. He was an active member of the Association for many years.
5 June 2018: Robert Norman (Bob) Pollitt, C.D. at the age of 88. Bob served from 1944 to 1991, 47 years of service from boy bandsman with the PWOR to CWO finishing as CO of the Cadet Corps. Bob twice served as the Regimental Sergeant-Major of the Princess of Wales' Own Regiment; served as the Ottawa Militia District Sergeant-Major, and acted as the Land Forces Central Area Sergeant-Major. Bob was one of the founders of the PWOR Regimental Museum, and its' first curator; a recipient of the Queens' Silver Jubilee in 1977, Chief of Defence Staff Commendation, 2014, the First PWOR Honorary Colonel's Citation, 2006. Bob was the elder statesman of the Regimental Association. His leadership and dedication will be sorely missed.
3 March 2018: Robin (Robbie) Hughes, BGen (Ret'd) at the age of 92. Grandson of the late BGen William St. Pierre, PWOR (CO 21st Battalion, CEF). A commemorative service will not be held; however, his ashes will be spread during the coming summer at a special spot on Bob's Lake.
24 January 2018: Victor "Vic" Brennan – Passed away suddenly at the age of 72. Vic Brennan, beloved husband of Debbie (nee Griffin). Much loved father of Karalyn Pines (Travis), Laura Brennan, Carrie Nicol and Kelly Nicol (Robert Simms). Cherished grandfather of Metteo and Dani. Dear brother of Lawrence (Terri). Predeceased by 1 sister Betty Brennan and by 2 brothers Bill and John (Bud). Also survived by several nieces and nephews. The family will receive friends at the TOMPKINS FUNERAL HOME on Tuesday January 30 from 2-4 pm. In lieu of flowers donations made to the Heart and Stroke Foundation would be appreciated by the family.
23 September 2017: David Stanley Morkem – LCol (Ret'd), Commanding Officer 1991-1995. It is with great sadness that we announce the passing of David Morkem following a courageous battle with cancer on Saturday, September 23, 2017 at the age of 77. Beloved husband to Linda (Jeeves) and loving father to Scott (Maria), Lynn (Arden), Matthew (Lindsay), Rachael and Abigail. Cherished granddad to Ryann, Kelsey, Keegan, Reid, Colin and Alex. Sadly predeceased by his loving grandson Ross and former wife Reba (Bugden). He will be missed by his sister Judy (Tom). A career soldier, enthusiastic farmer and skilled woodworker who lived his life to the fullest, never losing his sense of humor and passed with no regrets.
21 August 2017: Robert Hawker "Bob" Nuttall. February 27, 1924 – August 21, 2017. Veteran, WW II and Korea, Bob, in his 94th year, died peacefully at KHSC-Kingston General Hospital. Loving husband of predeceased Janine Nuttall (nee Bedard). Son of the late Frank Hawker Nuttall and the late Elizabeth Anne (nee Taylor). Loving father of Anne Carney (Owen), Squamish BC, Michelle Nakano (Bart), Abbotsford, BC, Steven Daniel Raymond Nuttall (deceased), and Michael Barry Nuttall and his wife Angela (nee Sauve). Very proud grandfather of Robyn Nakano and Jared and Adam Nuttall. Family and friends will be received at the James Reid Funeral Home, 1900 John Counter Blvd., Kingston (613) 544-3411, on Wednesday, August 30, 2017 from 1:00-1:50pm, followed by a service in the chapel to celebrate Bob's life at 2:00pm. A reception will be held in the James Reid Reception and Celebration Centre at the conclusion of the service. In lieu of flowers, donations in Bob's memory may be made to Wounded Warriors Canada or to the Royal Canadian Legion Poppy Fund.
25 April 2017, Sgt William Richard CALBERRY. Passed away peacefully in his 76th year at Providence Care Hospital, in the arms of his loving wife of 49 years and his daughter after a hard-fought battle with cancer. Survived by his wife Marie, his son William (Jenn), his daughter Eleanor (Kevin), his grandchildren, Caleigh, Aidan, Brynna, Emma and Isabella. Also survived by his siblings, Sarah (Bill), Ernest (Jan), Tom (Joan) and Melodie (Earl). According to Bill's wishes cremation has taken place and a private service will be held at TROUSDALE FUNERAL HOME at a later date. A special thank you to Drs. Gregg, Falkson, Petsikas, Tomiak, Goldie, Frank, Logan, Gibbens and the staff of both the Cancer Centre of South Eastern Ontario and Providence Care. A proud former member of the Princess of Wales Own Regiment and DuPont retiree. Donations in Bill's memory to UHKF (Cancer Centre of Southeastern Ontario) would be appreciated by the family. www.trousdalefuneralhome.com
13 December 2016, Major John Alfred Hirschfield, age 92. He achieved the rank of Major in the Princess of Wales Own Regiment where he served for over 30 years, acting as 2nd in Command under Commanding Officers Art Twigg and James McQueen. http://yourlifemoments.ca/sitepages/obituary.asp?oId=991442
31 July 2016, Major James "Sonny" Arsenault –Christened with the first name , Major, he chose to be known as "Sonny", to avoid obvious confusion. He retired from the Reg Force in 1980, and worked in Base Transport as a civilian and transferred to the PWOR that same year. He retired from the reserves in the early 90s and served with the Corps of Commissionaires for a number of years. Sonny was very well liked and had an endless number of friends and contacts. When he was the Unit Tpt. NCO, many resources magically appeared to fill our needs. When asked ' How did that happen? ', he would just shrug and smile. http://yourlifemoments.ca/sitepages/obituary.asp?oId=968581
16 July 2016, Rev John Hilliard — John served as Regimental Adjutant from the late 60s and into the mid 1970s. He was a dedicated officer who never sought the limelight, but was a calm, stabilizing , influence through some interesting times. As Adjutant, he was a wise counselor to all ranks, including many junior officers and a strong organizer behind some senior ones as well. http://yourlifemoments.ca/sitepages/obituary.asp?oId=965282
16 July 2016, Patrick Pidgeon — 45-year-old husband, father and Canadian Forces veteran served two tours of duty in Afghanistan, in 2006 and in 2010, before returning to firefighting http://www.thewhig.com/2016/07/16/fire-fighter-killed-in-amherstview-opp-confirm and https://www.thestar.com/news/canada/2016/07/17/kingston-area-firefighter-dies-battling-apartment-fire.html
6 May 2015, Merice Boswell who was the wife of LCol Bob Boswell, and the mother of LCol Brad Boswell, PWOR, RCR. http://yourlifemoments.ca/sitepages/obituary.asp?oId=880366
30 April 2015, Tim Manser who served in the Regiment in the 70s and 80s.
http://yourlifemoments.ca/sitepages/obituary.asp?oId=880354
11 January 2015, LCol Ray Dignum was the epitome of dedication and service. Seventy-one years in uniform, fifty years of service to the PWOR. It was a calm, kind dignified service that sets a shining example to all of us. He possessed a keen intellect, with the ability to make hard decisions and still and be universally liked. And all with a twinkle in the eye, and a smile on the face that says "I like what I'm doing".
2 May 2014, Michael Leo Bambrick. Mike served as the RSM of the Princess of Wales' Own Regiment welcoming Princess Diana to Kingston, ON in 1991; a distinction he cherished throughout his career. Remembrances or donations can be made to the charity of the donor's choice.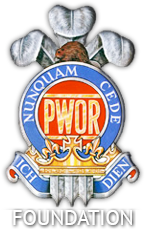 NOW RECRUITING!
Join The Princess of Wales' Own Regiment!
Do you have what it takes to push yourself to the limit, and then go even farther? Contact our recruiter today and learn about an exciting career with the Canadian Army Reserve, or swing by the Armouries to take a tour of the unit!!
Telephone: (613) 541-5010 ext. 2882
Email: [email protected]