Contact The Museum
Contact Us
The Armouries
100 Montreal St
Kingston ON
Canada
K7K 3E8
The Curator
Maj (Ret'd) Michael Boire
[email protected]
Contact Stuart to book a group tour, or to arrange for a visit outside the posted hours. Stuart will also be happy to arrange donations to the museum.
Vintage Military Vehicles
L/Col (ret) Tom Lodge, CD
For information regarding Vintage Military Vehicles or the Ontario Military Vehicle Assoc., please contact Tom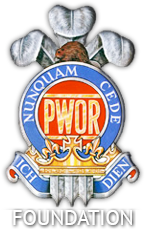 NOW RECRUITING!
Join The Princess of Wales' Own Regiment!
Do you have what it takes to push yourself to the limit, and then go even farther? Contact our recruiter today and learn about an exciting career with the Canadian Army Reserve, or swing by the Armouries to take a tour of the unit!!
Telephone: (613) 541-5010 ext. 2882
Email: [email protected]