3 June 2016 – On Wed 1 June, the two Honoraries briefed the Senior Regimental Colonel on the year's activities.
At the end of the briefing Col Smith was presented with a musical score written by Dr. Jim Finan, especially for Brit, which was played by Col Hutchings, Edward Hutchings and Kevin Orford.
(L-R) HCol Cowan, Col Hutchings, Kevin Orford, Col Smith, Edward Hutchings, and HLCol Jordan.
13 May 2016 – Today Colonel Brit Smith is celebrating his 96th birthday.
He was unable to attend Thursday's end of the training year event so representatives of the Foundation visited him yesterday morning.
He was presented with special birthday greetings from the Commander-in-Chief, His Excellency David Johnson and from The Right Honourable Justin Trudeau and his wife Sophie.
Colonel Smith was surprised by the special birthday greetings but also with the piping of Happy Birthday performed by Colonel Mark Hutchings and his son Edward, both pipers with the Princess of Wales' Own Regiment Pipes and Drums.
4 Apr 2016 – Our soldiers now have two new exciting additions to their training toolbox.
The PWOR has received its new x-country ski equipment and these high-end commercial skiis will benefit the biathalon team to be stood up in the fall. New .22 calibre rifles are also on their way. Fitness and marksmanship are principles of good infantry soldiering and a biathalon program is an excellent training mechanism to hone both.
Additionally, the Regiment is now able to more realistically and readily train skills in-house thanks to the addition of Airsoft C8 rifles. These training tools will allow immediate feedback to reinforce individual skills when exercising urban and close combat drills. Stay tuned for news of additional equipment and the development of a permanent on-site facility to allow the soldiers to use the new kit in increasingly effective ways.
We thank the Foundation and members of the chain of command for continually finding imaginative and innovative ways to support soldier training.
8 Mar 2016 – Excellent new "One Stop" web portal to CAF and DND resources supporting soldier and family career, finance, health, and spirituality.
Take a minute to learn more about the programs and benefits you and your family have at your disposal to ensure you are Misson Ready.
29 Jan 2016 – Robbie Burns Night held on Friday, 29 January at Rennaissance venue in Kingston.
"Address to a Haggis"


Great chieftain o' the puddin-race!

(L to R) Pipe Major Thomas Flake, Bass Drummer, Danny Sommers, Piper Edward Hutchins, Piper David Gemmill, Drum Sgt David McGrath, MCpl Dan Whittingham
(L to R) MCpl D Whittingham, Piper Edward Hutchins, Piper Brendan Christie, Bass Drum Danny Sommers, Piper David Gemmill, Pipe Major Thomas Flake, Drum Sgt David McGrath.
3 Feb 1016 – On Tue 2 February, 2016 a reception for the Hill 70 Memorial Project was hosted by France's Ambassador to Canada, Nicolas Chapuis.
Link to Speech delivered by the The Governor General of Canada, His Excellency the Right Honourable David Johnston C.C., C.M.M., C.O.M., C.D.
Members of the Band with MND, Hon Harjit Singh Sajjan, PC, OMM, MSM, CD, MP

(L to R – Dmjr Kevin Offord, Piper David Gemmill, MND, MCpl Whiitingham,
Piper Micheal Valiguet, Drum Sgt David McGrath)
12 Jan 2016 – The PWOR Museum is closed until further notice due to renovations at the Armouries.
Nov 2015 – 32 PWOR soldiers were recently presented with the German Armed Forces Badge for Military Proficiency after a series of challenging events testing fitness and marksmanship. The competition, organized by MWO Scott Shultz and judged by German Air Force Colonel Oberstleutnant Jan Von der Felsen, was the first time a CAF unit has been tested as a group for this qualification.
Photo Gallery link to follow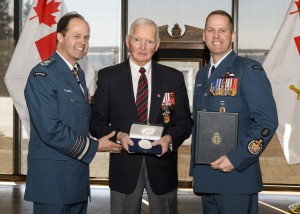 General Tom Lawson, Chief of Defence Staff and Chief Warrant Officer Kevin West, Canadian Forces Chief Warrant Officer presented Chief Warrant Officer (retired) Robert  Pollitt with a Canadian Forces' Medallion for exceptional service on 1 April 2015 at the Vimy Officers' Mess, CFB Kingston.
http://en.wikipedia.org/wiki/Canadian_Forces_Medallion_for_Distinguished_Service