Contact The Band
We would love to hear from you!
The Armouries
100 Montreal Street
Kingston, ON
K7K 3E8
Band
Kevin Offord
343-333-5514
[email protected]
The PWOR Band parades every Monday night at the Armouries
Other Contacts
The PWOR Regimental Adjutant:
Major David Lucas
613-541-5010 ext 5875
The PWOR parades every Thursday night at the Armouries, and Tuesday nights are held for administration.
Museum
Museum Curator
Stuart MacDonald
[email protected]
(613) 532-1027
Association
President
Vic McQueen
[email protected]
Cadet Corps
Commanding Officer
Lt(N) Brigitte Quesnel
(613) 541-5010 x 5939
Kit Shop
Stuart MacDonald
(613) 541-5010 x 5885
[email protected]
Facebook Page
https://www.facebook.com/pworpipesanddrums/
Kit Shop Hours
First and last Tuesday of each month from 1000 hrs until 1600 hrs (10 am-4 pm)
Thursdays (Parade night) 1900 hrs until 2200 hrs (7pm-10pm)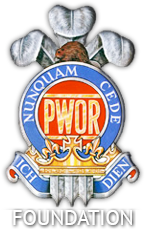 NOW RECRUITING!
Join The Princess of Wales' Own Regiment!
Do you have what it takes to push yourself to the limit, and then go even farther? Contact our recruiter today and learn about an exciting career with the Canadian Army Reserve, or swing by the Armouries to take a tour of the unit!!
Telephone: (613) 541-5010 ext. 2882
Email: [email protected]